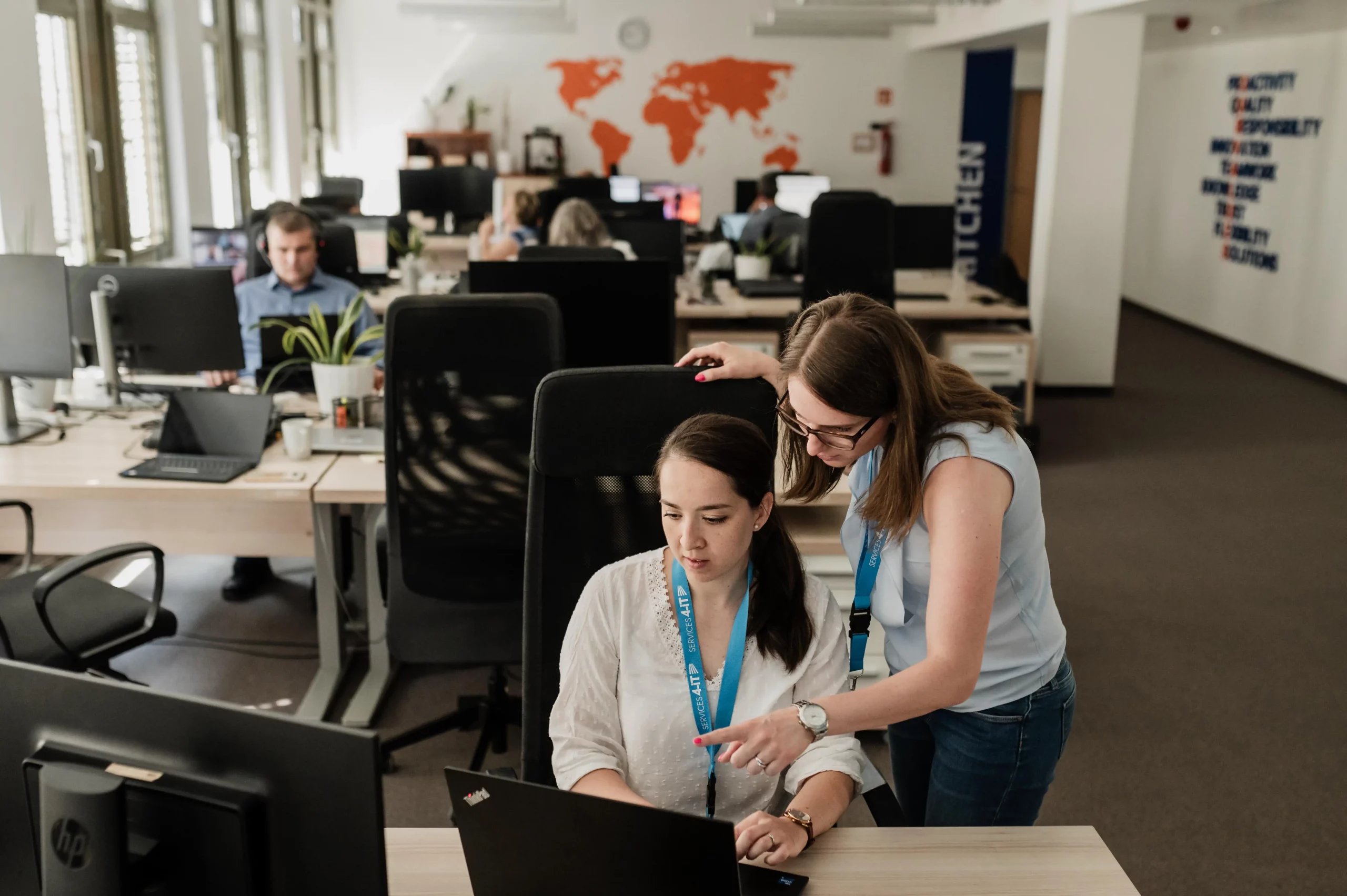 Why should you choose us?
We achieve our goal only through one thing: moving people future.
Our goal is to make a significant impact on our clients' businesses and help them achieve their goals and new heights of success.
At Services4-IT, we adopt a personalized approach for each project. We collaborate closely with our clients to comprehend their unique requirements and deliver tailored solutions.
Our team members are highly qualified and knowledgeable in their respective fields. They have years of experience in the industry and are passionate about the latest trends and technologies. Continuing education opportunities: Trainings and language course.
We are committed to fostering a positive work environment where everyone can thrive. Hence, we place a strong emphasis on transparent communication, teamwork, and the ongoing development and training of our team members.
Energetic and Supportive colleagues

Mentoring, support for team leaders

Team Events and Team-Building activities
Motivational work environment
Comfortable offices located in the heart of Budapest and Pécs

Thematic days in the offices

Weekly team meetings to facilitate exchange of ideas
Regular opportunities for further training
Workshops both abroad and locally

Individual language course
Attractive compensation package
Health insurance coverage

Employee referral program

Company laptop and mobile phone
Our application and selection process
Fill the application form
Brief telephone interview with our HR team (approximately 20 minutes)
Online interview with technical managers and HR
Insight into the team and new responsibilities
HR team will reach out to provide feedback
Pre-boarding / contract preparation
Insight into the life of Services4-IT
Meeting with the PL and customer
"You're always a little nervous about how the interview and selection process will go for a new job. In this case, the whole process went so smoothly that I felt like I had known the people I was talking to for the first time in my life for a long time. Everyone was very personable and helpful. Thank you so much for letting me apply!"
- Éva
"Throughout the selection process, communication with both the HR team and the professional manager was open and friendly. I received answers to all my questions and requests. My experience was absolutely positive because they were so flexible."
- András
"The information was correct and factual. Both about the company, the team and the specific job, I had the feeling that you are a well cooperating company where people support each other in the daily challenges. It was also very positive that during the interview it was clear that my future manager also had deep expertise, which was a really refreshing factor for me. The atmosphere in the company came across well during the process. I would recommend you to people I know."
- Gábor
"The personnel selection process was conducted in a friendly and pleasant atmosphere, so it was easy to do well. The extensive and continuous communication from the HR team meant I knew what the next step would be and what to expect in the future."
- Richárd